| | |
| --- | --- |
| | (096) 228-58-51 |
Furniture board. Retail

We are often approached by private individuals who use a quality furniture panel for the interior plating of the house and the manufacture of high-quality furniture board. The retail of material from natural oak has a price that is convenient for our customers, as they can use a quality product as a covering of the floor, steps of the stairs, instead of doors and other things. The low cost of our products is due to the fact that we use modern equipment and inexpensive environmentally friendly materials. Thus, the cost of production does not exceed the capabilities of our customers, and we can provide the general public with a choice among different types of furniture boards. Buy products from natural oak at retail, please, if you want to equip your house beautifully and expensively.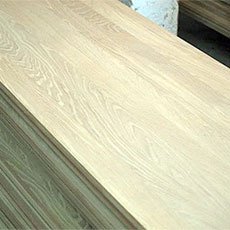 Many people choose between solid wood and our products. We see the advantages of a furniture board in front of the beams and boards only. Due to the unique structure of the product, it is not deformed under the influence of temperature and moisture changes. While whole wood is bent and cracked, furniture boards retain their shape. You can buy the products in three versions at retail. Depending on your needs and financial possibilities, we offer to choose the boards of A, B and C, the distinctive characteristics of which are listed on our website.
We recommend that you familiarize yourself with the available parameters of this type of building material from quality wood. The composition of the product is exclusively wooden boards and glue. Due to the perpendicular position of the layers, the wood fibers do not dry out and do not swell; therefore they remain in shape and can serve you for many years. Some customers buy our high quality furniture boards for the manufacture of kitchen countertops, as well as for furniture at retail. This material is especially beneficial for people who have allergies in the family, since our products are absolutely safe for humans. You cannot pick up a splinter or get sick due to the composition of the furniture board. You can order a product by delivery to any city in Ukraine at retail.
If you want to contact us, call the number mentioned at the official production website, please. You have the opportunity to purchase a reliable and multifunctional material that will serve your home for many years. Order delivery to your city in any amount of furniture board, please. Both retail and wholesale are available for all materials presented in the assortment of the company. If you want to get acquainted with the full information and cost, call us, please.
You can also choose for new house elements of furniture from natural wood, decorative skirting boards and mouldings in the catalogue of goods. We use oak, birch and alder for the customized manufacture of furniture boards. Retail sales of our products occur throughout Ukraine.