| | |
| --- | --- |
| | (096) 228-58-51 |
Furniture panels (edgeglued oak)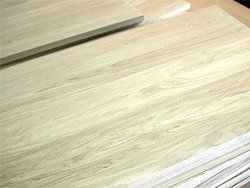 The furniture panels (edgeglued oak)
is made using modern equipment which helps to achieve the best result. It can be made of different wood species, but the chosen material is always real and reliable. Its thickness, type and other parameters can be chosen individually. All these and other details are discussed directly in a face-to-face meeting with our specialist.
The furniture panels (edgeglued oak) have their individual sorting, which differs in the characteristics. No defects, damages and cracks on their surface or something that can dissatisfy you are allowed.
The furniture panels of the whole-lamellar oak are distinguished by their highest quality, durability and reliability. Furthermore, they will impress you with the long service life. In addition to the worthy main characteristics, they also have very good look, which can definitely meet your approval.
If you are interested in the furniture panels (edgeglued oak), it is time to address to our company. We are one of the best manufacturers of a wide range of products, which you can find on our website.
You can ask the questions about the chosen furniture panels (edgeglued oak) to our qualified specialist, who is always ready to answer all your questions.
In our company you can buy the edgeglued furniture panels oak at the most reasonable and competitive prices. You can assure yourselves of it personally.,